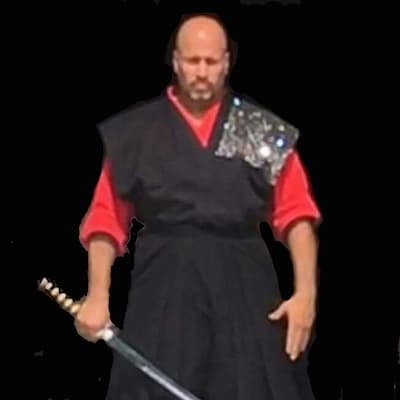 Roberto Serrano
ROBERTO SERRANO
8th Degree Black Belt
World Champion & Hall of Fame
Martial Arts America
38 YEARS EXPERIENCE IN MARTIAL ARTS
Master Serrano has been training for more than 38 Years. After growing up in Inner-city Chicago where he was a bullied child with low self-esteem, he began his formal martial arts training as a teen and continued his Martial Arts Leadership Training as a Cadet at the United States Air Force Academy and a member of the Air Force Karate Team.
Even before earning his first Black Belt, Hanshi Serrano was quickly recognized as a highly skilled and accomplished instructor and competitor.
He worked his way through college teaching martial arts and worked as a police officer until he dedicated his life full-time to teaching martial arts to families.
Hanshi Serrano is an Internationally Certified Eighth Degree Master Instructor with extensive experience in many different styles of martial arts.
He also has been recognized as one of the best instructors in the country, and has personally won many International Championships & Gold Medals, and has been inducted in the Martial Arts Hall of Fame as a Competitor, Master Instructor and also as a Martial Arts School Owner.
Over the years, his instruction and influence has made a significantly positive difference in thousands of lives, and he has developed leaders that have demonstrated those leadership qualities in martial arts and also numerous other industries.
After retiring from competition in 2009, Hanshi Serrano continued to dedicate his life to the martial arts for the benefit of his students at Martial Arts America.
MAA Training Philosophy
Since early in his martial arts training, Hanshi Serrano developed an appreciation for a well-balanced martial arts curriculum that would allow a student to maximize their potential no matter what body style or level of fitness they were at when they started. Throughout his career, Hanshi Serrano trained with Grand Master Instructors, World Champions and Famous Experts in many different fields to ensure that his students would receive the best training martial arts had to offer. He successfully developed a sophisticated training curriculum for his students that brought together the different styles of martial arts in a way that takes full advantage of modern training techniques and newly discovered knowledge while preserving their traditional value. What this means for Hanshi Serrano's students is that they will get the benefit of many different styles of martial arts while training in one core curriculum maintaining the opportunity to grow without the burden of starting over in another system.
MAA Styles & Systems:
American Karate
Greek Pankration
Philippine Escrima)
Japanese Jiu-Jitsu
Modern Tae-Kwon-Do
Okinawan Weaponry
American Kickboxing
American Boxing
Police Defensive Tactics
Wisconsin Certified Firearms Instructor
Certified Tactical Master Instructor
Certified Police Defensive Tactics Instructor
"Hanshi Serrano Has A Passion For Teaching Families To Reach Their Full Potential"
*********************************************************
Past Leadership Experience & Associations:
Board Member: World Pankration Athlima Committee / FILA
Vice-President: US Federation of Pankration Athlima
Board Member: Hispanic Chamber of Commerce of WI
President: Greendale Chamber of Commerce
Member: World Escrima Kali
Member: National Association of Professional Martial Artists
Member: Martial Arts Industry Association
Member: American Karate Association
More than 8 Years Law Enforcement Experience
Hanshi Serrano's Most Significant Awards & Accomplishments:
(Most Recent Listed First)
2017 Martial Arts America Black Belt, Rose Namajunas won the UFC World Championship.
2013 Wisconsin Men's Team Fighting Champion (Hanshi Serrano)
2009 As a Coach & Member of the US Pankration Team in the 2009 Pankration World Championships held in Lithuania, Team USA Pankration won the TEAM GOLD along with a US team total of 9 Gold, 13 Silver, and 6 Bronze Medals. Eight members of the US Team from Martial Arts America in Greendale, WI won 5-Gold, 7-Silver, 1-Bronze and Two 4th places and one 5th place of the US Team total - An unprecedented feat. Hanshi Serrano personally won a Gold and a Bronze.
December, 2008 Awarded BUSINESS OF THE YEAR by the Greendale Chamber of Commerce
May, 2008 Appointed to the 5-person Board of the World Pankration Athlima Committee / FILA
April, 2008 Inducted into USA Martial Arts Hall of Fame & selected as the Grandmaster Of The Year Award.
April 12-13, 2008 - Head Coach for TEAM USA at the World Cup Pankration & Martial Arts Championships held at Lambeau Field in Green Bay, WI. US Pankration Team won the Gold Medal. In addition, 19 Martial Arts America-Greendale members of Team USA also won a total of 9 - Gold Medals, 14 - Silvers, 9 - Bronzes and 4 - Fourth Places.
November 2007 - As the HEAD COACH for Team USA at the World Cup Martial Arts & Pankration Championships held in Mirandela, Portugal in November 2007, his MAA Students won 23 Gold, 15 Silver and 3 Bronze Medals
September 2007 - As the HEAD COACH for the 2007 US Pankration Team, he led the team in the 2007 FILA World Pankration Championships in Antalya, Turkey to 2 Gold Medals, 5 Silvers and 1 Bronze.
2007 Business of the Year by HCCW
August 2006 - As the HEAD COACH for the 2006 US Pankration Team, he led the team to a Second Place in the World for the Overall Medal Count. 10 of the 12 US Team Members were Martial Arts America Black Belts.
SILVER MEDAL - 2006 Pankration World Championships, in Thessaloniki, Macedonia, Greece August 26th-27th, 2006.
GOLD MEDAL - 2006 WEKAF Philippine Escrima World Championships, July 2nd-9th, 2006
1 GOLD, 1 SILVER & 1 BRONZE MEDAL – 2005 Caribbean International Championships in Fajardo, Puerto Rico in Weapons, Forms and Fighting Divisions
SILVER MEDAL – 2003 Pankration World Championships in Greece – 100 Kilo Fighting Division
2003 UNITED STATES TEAM CHIEF COACH
2003 HALL OF FAME INDUCTION by Action Martial Arts Magazine
GOLD MEDAL - 2002 Clan Challenge for US Team in Perth, Scotland - Men's Heavyweight Fighting
BRONZE MEDAL – Team Captain & Fighter for US Team in the 2002 Clan Challenge Team Fighting Competition.
2002 UNITED STATES TEAM CHIEF COACH
2002 HALL OF FAME INDUCTION by American Karate Association
BRONZE MEDAL - WEKAF Escrima World Championships held in London, England – July 4th, 2002 in Full Contact Stick Fighting
TOP 200 SCHOOLS IN THE WORLD by Martial Arts Business Magazine In 2001
GOLD MEDAL - 2001 Pan-American Marital Arts & Pankration Games - Men's Heavyweight Fighting - Also 2nd Place Karate Fighting / 3rd Place Forms / 4th Place Weapons. - Special Recognition as a member of the International Referees Committee.
2000 HALL OF FAME INDUCTION by USA Federation of Pankration Athlima
TOP 200 SCHOOLS IN NORTH AMERICA every year from 1994-2000 (The organization stopped awarding them after 200)
3 - HALL OF FAME INDUCTIONS for Martial Arts America Students in 2001.
1989 MIDWEST KICKBOXING CHAMPION undefeated – FFKA – Welterweight Division
1988 WI OLYMPIC TRIALS CHAMPION
Full Contact Fighting Trials – Welterweight
Appeared in the nationally acclaimed police training movie, "Surviving Edged Weapons."
1980 NATIONAL CHAMPION - United States Air Force Academy Karate Team.
Performed numerous Martial Arts Demonstrations on Cable TV, at Summerfest Grounds, Wisconsin State Fair, and numerous other festivals, kickboxing shows, and events